Calling all Region 2 clubs, coaches, athletes, judges, families and supporters.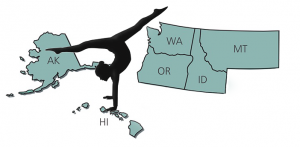 USAG Region 2 is the largest geographic region in the country. We are united in our mission to provide financial support for our athletes.   Annually, the Region will need approximately $50,000 to outfit our Region 2 athletes.
Level 9 athletes to Westerns and Level 10 athletes to Nationals will benefit from these funds.  We are working hard, and we NEED your support! 
As a club, you can show your support by being a contributor to the apparel fund!
We need to see 100% of our clubs on the Region 2 Donation List!
Parents and businesses, please support our athletes!
Does your business also double donations of their employees?  We are 503-1C and count as a charitable donation.  Receipts will be provided.
Your name, club name, or business will be posted on our Region 2 website and Region 2 Supporter Banner.
The Region 2 Supporter Banner will be at the Regional meet, Western Championships and National Championships.
Region 2 team photos will be taken with the banner.
Copies of the photos and a certificate indicating your support will be sent to each club/supporter.
Region 2 Support Levels:
$2,00 = Diamond
$1,00 = Gold
$ 500 = Silver
$ 250 = Bronze
$ 100 = General
Please send your donations directly to:
USAG Region 2
Marian DeWane RACC
PO Box 2137 
Boise, Idaho 83701