Xcel Training Camp – October 14, 2023

The J501 USA Brevet/National /Level 10 Judges' Course/Study Materials Update
The J501 USA Brevet/National /Level 10 Judges' Course/Study Materials course has been updated by USA Gymnastics and is now available for purchase for those Level 9 judges who are studying to test up to Level 10 and for Level 10's to use for education and review. The course will be accessible for the remainder of the 2022-26 cycle once purchased.
Those judges who took part in the 2022 USA Brevet/National Judges' Course still have access to this course with the updates for 2023 at the link below. Just scroll down to the "Begin or Continue taking Course "section and click on the red "Begin Here" button.
The J501 Course is now available for purchase for $75 at: https://members.usagym.org/pages/education/courses/J501/
---
Hall of Fame Nomination Form
The Regional Administrative Committee is seeking nominations by the membership at large for Region 2 athletes, coaches, judges, and contributors who have earned the respect and admiration of their peers during their career. The purpose of the Region 2 Hall of Fame is to preserve the history and achievements of the Region 2 community. 
The nomination form is attached and must be returned to me no later than October 16th (email to raccregion2@gmail.com). The Region 2 Hall of Fame Committee will then review the nomination and a final list of inductees will be published, and the class of 2024 will be inducted along with the class of 2023 at a ceremony held at Regional Congress next summer.
CLASS OF 2023
Coach: George Lewis (deceased)
Judge: Karen Patoile Wisen (deceased)
Contributor: Lee Bjella (deceased)
Athlete: 1968 Olympian, Joyce Tanac Schroeder
Download the Hall of Fame Nomination form (PDF)
---
Committee Meeting Minutes
---
2024 Women's Regional Championship
Select for information on Women's Regionals: April 12-14 2024
Level 6 Invitational: April 11, 2024

Alaska Airlines Center
3550 Providence Dr. Anchorage, Alaska 99508
Camps Update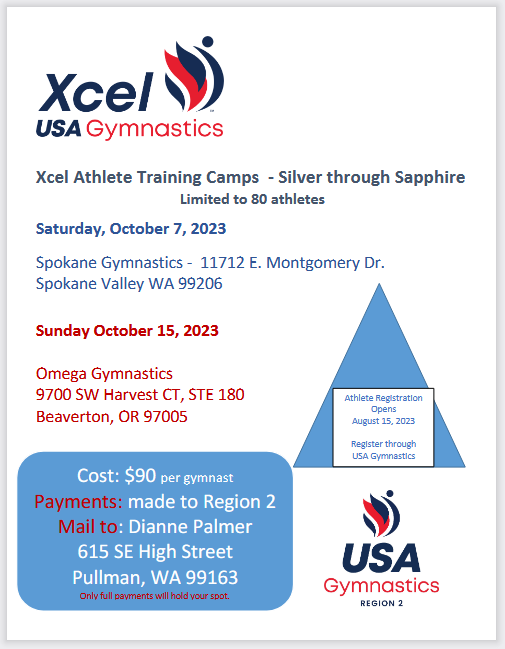 ---
Updates to Women's Program Rules & Policies
USA Gymnastics has approved two items from the 2023 Women's Technical Committee meeting that will affect the judges' compensation package as stated in the Women's Program Rules & Policies. Starting August 1, 2023, the below items will be current:
1. Assigning fee: Increase of $3.00 to $5.00
Any assigning fees collected prior to 8/1/23 will reflect the current $3.00/per judge fee.
Any assigning fees collected 8/1/23 and after will reflect the new fee of $5.00/per judge fee.
2. Judges hourly rate: Increase of $1.00 per hour for all judges' ratings (Dev and Xcel)
---
RACC Newsletter June 30, 2023
Included in this newsletter:
Updated Handbook Region 2 (download the handbook); Note items in the handbook that are highlighted will be official once the National Minutes become official.
Calendar to date (below)
*When approved, the June minutes will also be sent.
As I end my term as RACC, I want to thank all those who worked to help serve our region during my term.  Reflecting over the last eight years, I look back at how much we have accomplished from when I assumed the position. In 2014, we were $6,000 in the red and I am leaving the position with a current balance of $91,000 in the black. A major issue was the lack of athlete apparel for Western and National competitions.  Now, we are a leader and other regions look at us as an example in providing for our athletes.  Our Level 9 athletes have a full outfit, including slides.  The Level 10 athletes have 3 full outfits, including shoes and a suitcase. We expanded camps to include an Inland camp and a hotshot camp. We also wrote a regional handbook, added Level 7 to the Regional meet, hosted Westerns as a fundraiser, allowed for judges substitutions at regionals for Level 7, survived Covid, started multiple fundraisers, added an Xcel Regional meet, developed a website, started a Hall of Fame, encouraged bids from all states for Regionals, and started a monthly newsletter to keep everyone informed.  Thank you to all those who helped the region move forward with all these improvements. I will still be here supporting the region and hope to see you all in the future.
Gymnastically yours,
Marian DeWane,
RACC Region 2
*****************************************************************************
Results from Nationals (download as a doc): We won the Jr F age group and were third in the Sr A age group. We had 6 event champions, 1 AA champion, and 1 2nd place AA.  In Jr F, we took 1st, 2nd, and 3rd places in Vault! Way to go Region 2!!!  We have improved so much- CONGRATULATIONS to all our coaches for their hard work.
******************************************************************************
Region 2 Program of the Year- Ascend – Congratulations!
The top teams based on points were Ascend, Metropolitan, Pacific Reign, Mountain West and Naydenov. Congratulations to all!
******************************************************************************
Starting July 1, please direct all your questions to Sandy Flores at Floreshome@aol.com
******************************************************************************
Financials:
Our current balance is 91,000. Checks are still being processed and we should finish the fiscal year at approximately 86 K in the regional account to end the fiscal year.
****************************************************************************
There will be multiple updates once the May meeting minutes are all published.  I was going to include them here, but they have not finished the approval process.  BE SURE to READ THEM when they come out– there are many changes that will affect your programs. There will be one additional set of minutes coming as I had my last meeting Wednesday, June 28th.  Once the minutes are approved, they will be sent out.
******************************************************************************
Calendar:
Looking ahead: Region 2 Calendar through 2024
Date
Meet
Location
Host
August 24 – 26, 2023
National Congress
San Jose, CA
USA Gymnastics
April 12-14, 2024
Dev Regionals
Anchorage, Alaska
Anchorage Gymnastics
April 19 – 21, 2024
Xcel Regionals
Century Link Arena Boise, Idaho
Performance Plus
May 3 – 5, 2024
Westerns
TBA
TBA
May 10 – 12, 2024
Dev Nationals
Daytona Beach, FL
USA Gymnastics
April 11-13, 2025
Dev Regionals
Portland Expo Center
Naydenov Gymnastics
April 25 – 27, 2025

Note: Easter is the week after Dev Regionals

Xcel Regionals
The Pavilion – Oregon State Fairgrounds Salem, OR
The Athletic Edge
2023 Schedule camps –TBA by Tiffany
---
RACC 2023 Election Results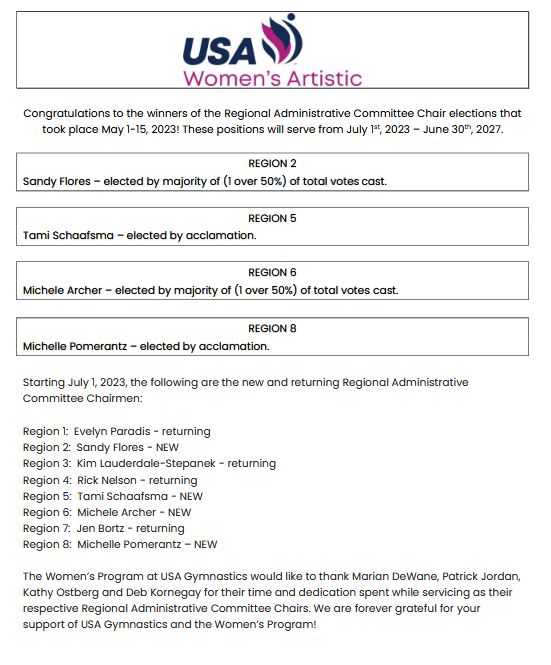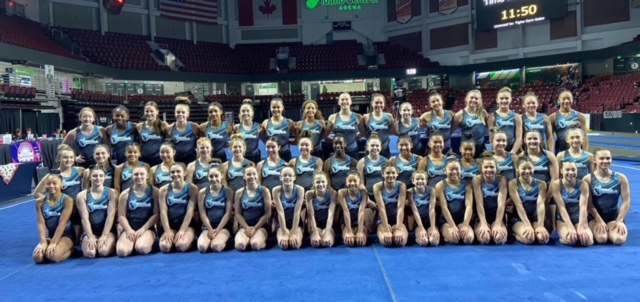 Congratulations Westerns Juniors
5 Event Champions!
Name
Club
Age Grp
Event Place
Event Place
Event Place
Event Place
Event Place
Cassandra

Tan

CEGW
1
Beam

6th

Floor

3rd

AA

5th

Khalyah

Montanoña-Banks

SWAG
1
Floor

8th

Sadie Drake
Advantage
1
Beam

8th

Finley

Young

Metropolitan
2
Floor

7th

Hadassah

Ruiz

Metropolitan
3
Floor

1st

Sarah

Neumayer

Bronco
3
Vault

6th

Bars 7th
Sophie

Kung

CEG
3
Vault

1st

Beam

3rd

AA

8th

Kate

Richards

Ascend
4
Vault

8th

Floor

8th

Jordyn

Dawson

Danik
4
Beam

2nd

Leslie Carline-Franklin
Northpointe
4
Bars

6th

Annikah

Baker

Mtn. West
5
Bars 7th
Marissa

Bewley

Northshore
5
Bars

7th

Beam

1st

AA

7th

Mao

Kondo

Black Hills
7
Beam

3rd

Floor

6th

Analyn

Wuff

Ascend
7
Vault

6th

AA

8th

Makahla

McGlon

Emerald City
7
Vault

1st

Beam

2nd

Floor

3rd

AA

2nd

Corrine

Roberts

Northshore
7
Bars

1st

Floor

2nd

AA

7th

Violet

Wong

Rainbow
7
Vault

8th

Alexis

Pena

Madison
8
Vault

5th

Beam

2nd

AA

3rd

Alaina

Tiner

Bronco
8
Vault

2nd

Floor

2nd

AA

8th
Westerns Seniors
2 AA Champions, 5 Event Champions, and 2 Age Group Champions
Name
Club
Age Grp
Event Place
Event Place
Event Place
Event Place
Event Place
Harper Knox
Bronco
1
Beam

4th

Floor

3rd

AA

5th

Lily

Miyoshi

Gym East
1
Vault

5th

Floor

6th

Maddy

Mello

Mtn. West
1
Vault

4th

Lucy

Lyakhovitski

Emerald City
2
Floor 6th
AA

4th

Elena

Markley

Pacific

Reign

2
Bars

6th

Floor

6th

AA

5th

Giselle

Millner

Naydenov
3
Vault

6th

Bars

2nd

Beam

5th

Floor

4th

AA

1st

Julia

Montero

Denali
3
Vault

5th

AA

5th

Zoe

Liu

Naydenov
3
Bars

3rd

Morgan

Sfanos

Pacific Reign
3
Bars

1st

Jocelyn

Palmer

Pacific Reign
3
Beam

3rd

Floor

5th

Claire

Johnson

Pacific

Reign

4
Bars

2nd

Beam

5th

Floor

4th

AA

2nd

Alexis

Lee

Ascend
4
Bars

4th

Beam

6th

AA

4th

Sosie

Stewart

Mtn. West
4
Bars 5th
Karina

Cooper

SWAG
5
Bars

5th

Beam

8th

Floor

6th

AA

3rd

Ellise

Woodgate

Gym

East

5
Beam

2nd

Floor

5th

AA

8th

Hailey

Houdak

Inspire
5
Vault

4th

Beam

4th

Cadence

Fineran

Jewarts
5
Vault

8th

Siena

Kono

Northshore
5
Bars

7th

Ashley

Boelens

Mountain

West

6
Beam

2nd

Floor

8th

AA

2nd

Makenzie

Madsen

Mountain

West

6
Beam

1st

Floor

6th

AA

5th

Taryn

Vally

Emerald

City

6
Vault

4th

Bars

1st

AA

8th

Brainna

Ladd

WINGS
6
Beam

8th

Floor

3rd

Kylie

Cole

Denali
6
Beam

4th

Addison

Day-Esson

Metropolitan
7
Vault

6th

Bars

6th

Beam

2nd

AA

1st

Kaylee

Ortiz

Westside
7
Bars

1st

Beam

6th

AA

2nd

Nevaehly

Ortiz

Metropolitan
7
Bars 3rd
Beam

1st

AA

4th

Aria

Lewis

Coastal Realm
7
Vault

8th

Bars

5th

AA

7th

Abigail

Schmidt

OOA
7
Beam

7th

Dylan

Patton

Metropolitan
7
Beam

4th

Floor

3rd

Sara

Murphy

Advantage
8
Vault

6th

Bars

3rd

AA

3rd

Macie

Lum

HITS
8
Vault

5th

Bars

7th

Floor

7th

AA

8th

Race

McManus

Bronco
8
Floor

3rd

Emma

Olsson

Island

Tumblers

8
Floor

8th