December 2021 Newsletter
I hope this Newsletter finds you well and looking forward to the 2022 season.
USAG updated policies on Covid protocols.  Please see sanction_nonnational.pdf (usagym.org) to read the document.  Essentially, it is now saying for state and regional meets only the local CDC guidelines need to be met.  Westerns and Nationals will still have a mask mandate requirement in place. We are experiencing a COVID surge, but you are well prepared to have the necessary protocols in place to provide a safe event for the athletes; coaches; officials; staff; families and friends.
USA Gymnastics has updated COVID guidance to assist event directors and participants.
As the season progresses – the protocols for the 2022 Regional Championships will be monitored and shared with the membership.
Updated COVID guidance Link
There are several items that require your attention as we move into 2022:
Most important! Do you have SENIORS in high school? We need a  LIST for Level 7,8, 9, and 10 and Xcel Gold, Platinum, and Diamond.  Sadly, last year there were athletes at regionals who came at the end of awards when we asked if there was anyone else and said they were a senior and we did NOT have them listed. There was at least one every session!  PLEASE send me your names.  We also want to make sure we have enough senior gifts for them.
U 112 Tough Coaching or Emotional Abuse Course Link
Failure to complete this course by January 10, 2022, will result in your membership being placed in pending status. Review membership requirements here .
USA Gymnastics offers Health Insurance benefits Link
Save the date- Regional Congress dates are August 13 and 14 at the MAC Club in Portland.  Testing for Nationals and Brevet judges will be provided.  There will also be a U200 course offered. More to come.
Sad news- Merge Eilers, a longtime judge in Washington, has passed away.
Thank you to everyone who help to support the leotard fundraiser.  We made $4500!  Our other fundraiser is going great! Please put it out to your parents and have your clubs donate.  So far, we have club donations from Emerald City Gymnastics, Island Tumblers, Naydenov Boosters, and PEAK.  We also have several donations from families.
In closing, thank you for your commitment to USA Gymnastics Region 2.
Best wishes for a happy and healthy 2022,
Marian DeWane
Link to download the full newsletter (.docx)
---
November 2021 Newsletter
Updates on:
Attire
Question
Medical
Volunteers
Music
Courses
Camps and Thank you's  
Fundraising
Calendar
Please see the full text on the Newsletters page
---
Hello Region 2,
IMPORTANT:  High Tech Date Change (This the 3rd and final date announcement)
High Tech            October 23-24th                Metropolitan      Kent, WA (please note)
My sincere apologies for the confusion on the dates for High Tech.  There has been many obstacles and commitments that needed to be worked around. My goal this year has been to get a date that all clubs can and will participate.  This will be a great experience for not only the athletes but also the coaches to work together.  This is the date that gives the best chance at a majority of club participation.)
Oct 2-3rd              Super Camp North           Emerald City- Redmond, WA Registration open on USA Gymnastics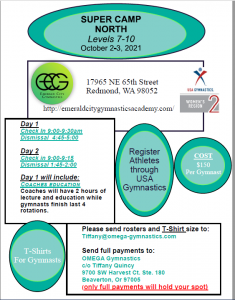 SUPER NORTH (Download the PDF)
Oct 16-17th          Super Camp South           Naydenov-Vancouver WA Registration open on USA Gymnastics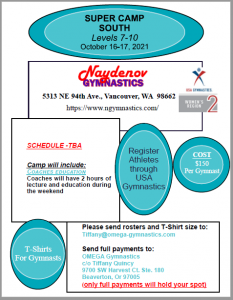 SUPER SOUTH (Download the PDF)
Nov 20-21st         High Tech                           Metropolitan, Kent WA (This date has changed from Nov. 13-14th)  Date change-see above
Who can attend Super Camp?  Level 6's safely training level 7 skills and Level 7-10.
Who can attend High Tech?  Level 9 Western Qualifiers and Level 10 Regional qualifiers.  If your athlete did not compete last year due to Covid or injury, please send me an email request and I will submit to my committee to review.  The criteria is in place to make for a quality camp, not to exclude people who had a difficult year due to Covid, illness or injury.
Safe Training!
Tiffany Quincy
RDPCC Region 2
---
Good morning all State and Regional Administrative chairs,
I have been asked to share the below with you from USAG's Safe Sport department:
As most of you are aware, USA Gymnastics released our updated 2021 USA Gymnastics Safe Sport policy in August. This policy builds and expands on the previous policy, and was created in accordance and compliance with the U.S. Center for Safe Sport and includes all mandatory components of the Center's model policy, the Minor Athlete Abuse Prevention Polices (MAAPP).
The updated policy adds a couple of new requirements for State and Regional Committees, outlined below.
All state and region websites MUST provide a link to both reporting portals of the U.S. Center for SafeSport and USA Gymnastics. The links to both portals can be accessed below. The links do not have to be located in a specific location on the website, nor are they required to have more prominence than other links on the page.  It is essential that they are visible and can be located easily by a random user of the website. Both portals need to indicate which agency the link applies to. For example, "Click here to make a report to the Center for SafeSport" or "To make a report to USA Gymnastics click here."
Additionally, the Center for SafeSport is requiring that anyone with regular contact and/or authority over minors who works at a USA Gymnastics sanctioned event, must be given access to a letter that highlights the basic tenets of the USA Gymnastics Safe Sport Policy. To meet this requirement, USA Gymnastics has taken steps to reach all members regardless of status at an event. We are asking for all State and Regional Committees to post a link to this letter on their website for easy access for meet directors, and anyone else in need of the information. Communicating Safe Sport policy is required per federal mandate and a part of the audit standards imposed by the Center. The letter should be titled, "USA Gymnastics Safe Sport Letter"
As always, if you have any questions, please contact us at safesportpolicy@usagym.org.
Christy Naik
USA Gymnastics
Women's Development Program Director
---
Good evening National, Regional and State chairs,
I am excited to share some #NGD2021 content for you to start sharing with your communities.
Instagram Live Promo Graphic

Here is a new graphic for your feed you are encouraged to share to help promote club/gymnast participation in our Q&A's on Saturday!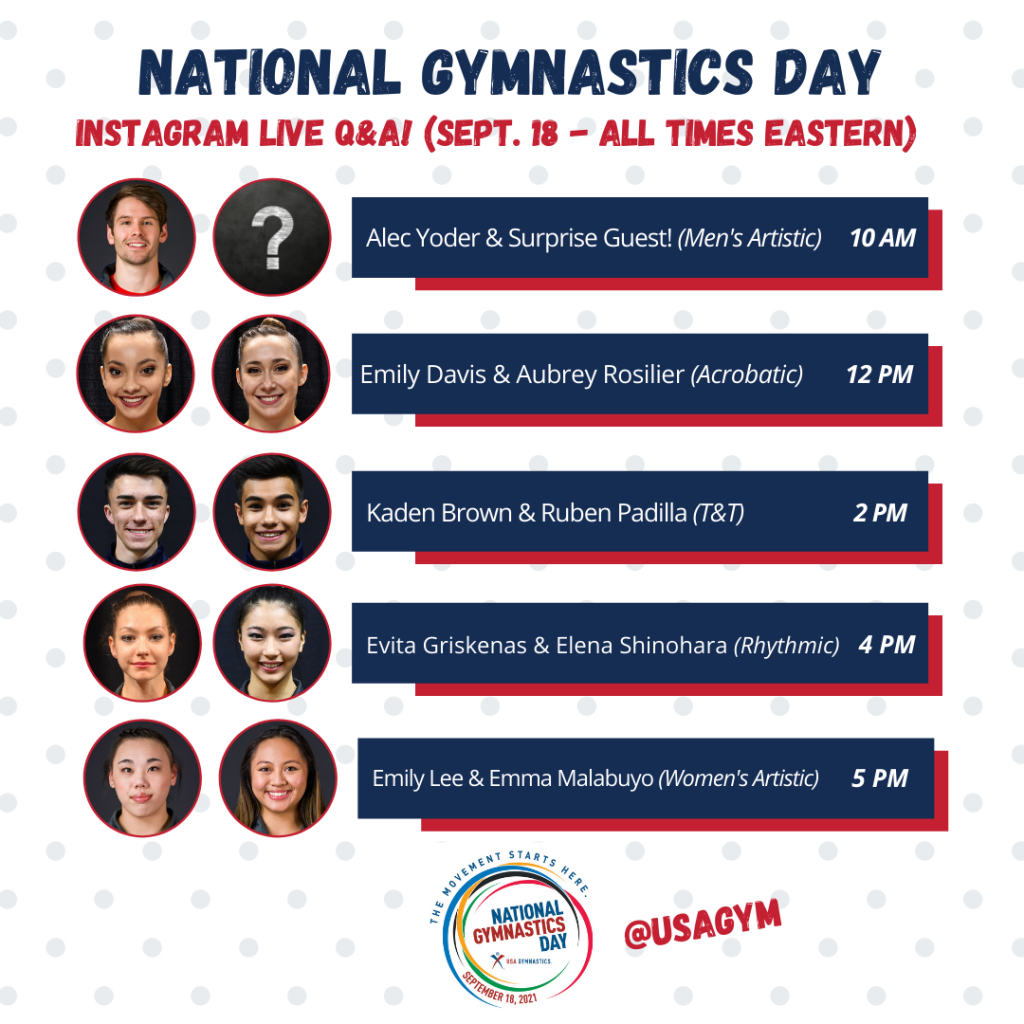 Social Media Caption Examples

Have a Throwback graphic ready but don't know how to caption it? No worries! Here is a list of suggested copy points. Feel free to tinker with the language to deliver the appropriate message for you!

Reminders for the Day

Remember to share your Throwback/ThenvsNow graphics and tag us (@usagym) and use the hashtag! (#NGD2021)

We will be re-sharing various posts that do this throughout the day
We are giving away 5 prize packs featuring signed memorabilia, official gear and more to U.S.-based community members that participate

For general information:
Day 2 of Worlds Selection competition for Men's Artistic will also be going on during NGD (4:30 ET), and we will be live streaming from Colorado Springs!
Also, be sure to check your inbox tomorrow morning for the much anticipated 2021 National Gymnastics Day video for you to share with your communities.
Thanks,
Christy
---
September 18, 2021
Good morning all National, Regional and State chairs,
HAPPY NATIONAL GYMNASTICS DAY!!!  I hope you all take some time to celebrate our sport today… if you have any fun pictures of activities taking place at your gym, feel free to send them my way and I will pass onto the communications department to possibly be included in social media posts, etc.
Feel free to share the below video with your communities, post to your accounts, and have fun with it!  I am so excited to share this video that showcases our sport from the GRASSROOTS level!
Static "National Gymnastics Day" Video for Feed

Celebrating grassroots aspect of our sport, will need to push to IGTV if posting for Instagram, as it is longer than a minute.
LINK to download and share!
Also, my #NGD2021 graphic for your enjoyment:
Thanks,
Christy
---
Region 2 Newsletter September 7, 2021
What is in the Newsletter:
Xcel Qualifying to Regionals
Support Training Camps
New Membership requirements
Using Meet Reservations
Meet Directors – what's new
TOPS Qualifiers
Calendar
Xcel Qualifying to Regionals
1 – 2 sessions of Diamond Friday night with 34.0 QS
4 sessions of Gold with 60 each on Saturday using a % of a %
2 – 3 sessions of Platinum on Sunday with a 35.0 QS
CAMPS ARE BACK
Tiffany and a subcommittee have been hard at work to put these together.  Please support their efforts by attending.  Sign up on meet reservations.  😊
NEW REQUIREMENTS
New Course Requirements: This season, USA Gymnastics will introduce two new educational courses that certain membership roles will be required to complete as a condition of membership.
Look at the table here requirements_table.pdf (usagym.org) to review which roles will be required to complete the U112: Tough Coaching or Emotional Abuse Course and the U113: USA Gymnastics Safe Sport Policy Course.
MEET RESERVATIONS
Meet Reservation is a requirement for all USA Gymnastics sanctioned events. Check out meet reservation_0820.pdf (usagym.org) for step-by-step instructions.
MEET DIRECTORS
NEW this season, Meet Directors are able to scan USA Gymnastics members' membership cards to view their membership status in real-time. This new feature will allow meet directors/sanction administrators the ability to verify memberships quickly if an individual was not previously registered for their event.
Judges must be entered into the sanction by the event director, sanction administrator, or Meet Referee.
Event directors or sanction administrators must also add on-site and late entries (athletes, coaches, and judges) into the Meet Reservation system.
We are unable to accept sign-in sheets generated by outside meet registration or scoring companies. Please use the coaches' and judges' sign-in sheets provided in your sanction forms.
TOPS QUALIFIERS
Region 2 Congratulates all the following who are going to National TOPS! HITS had 9 Qualifiers and OGC had 6!  Way to go!  Advantage placed one on the Diamond Team!
2021 TOPS Testing Qualifiers
8 Year Olds:
Brooklyn Hardman           Ascend Gymnastics
Halle Bugeaud                   Cascade Elite
Ariah-Juliana Sanchez     Hawaiian Island Twisters
Luna Bird                             Hawaiian Island Twisters
Jaelya Appleton                Hawaiian Island Twisters
Kaiya Ichimura                   Hawaiian Island Twisters
Jaelyn West                        Olympic (OGC)
Kaley Blandford                Rigert Elite Gymnastics
Emily Mendoza                 SWAG
9 Year Olds
Analea Patalau                  Ascend Gymnastics
Georgia Carr                       Avant Coeur Gymnastics
La'iakea Reyes                   Hawaiian Island Twisters
Julie Bracamontes            Metropolitan Gymnastics
Talia Davis                           Olympic (OGC)
Emma Soeu                        Zenith West
10 Year Olds
Sadie Drake                        Advantage Gymnastics Center
Elizabeth Herbison           Advantage Gymnastics Center
Addie Lewis                        Advantage Gymnastics Center
Lexi Vanderlinde              Ascend Gymnastics
Maddie Moeller                Cascade Elite
Cassie Tan                           Cascade Elite West Gymnastics
Riley Dow                            Danik Gymnastics
Kinslee Keopple                Hawaiian Island Twisters
Kaleah Sanchez                 Hawaiian Island Twisters
Michaela Louie                  Hawaiian Island Twisters
Olivia Morrice                    Hawaiian Island Twisters
Janella Velarmino             Metropolitan Gymnastics
Allie Moore                         NAAG
Trinaty Atkinson               Olympic (OGC)
Eirabella Vicente              Olympic (OGC)
Maxie Long                         Olympic (OGC)
Rylee Powell                       Olympic (OGC)
Khalyah Mantanoa-Banks               SWAG
Madeleine Hoare              Technique Gynastics
Anna Blake                          Zenith West Gymnastics
Diamond Team
Charlotte Elzinga              Advantage Gymnastics Center
Calendar REGION 2
Inland Camp September 25 – 26                                 Dynamics             Spokane, WA
North Camp October 2 – 3                                            Emerald City       Redmond, WA
South Camp October 16 – 17                                       Naydenov           Vancouver, WA
High Tech Camp October 23 – 24                                Metropolitan     Kent, WA
DP Regionals April 21 – 24                                            Naydenov           Clark County Event Center Vancouver, WA
Xcel Regionals April 29 – May 1                                  NW Aerials          Gary D. Weikel Event Center Evergreen State Fairgrounds, Monroe, WA
DP Westerns May 6 – 8                                                  Lindenwood U   St. Charles, Missouri
DP Nationals May 13 – 15                                             TBA
Region 2 Newsletter August 25, 2021
Welcome to a NEW season!  Lots of new changes with the compulsories and membership.  If you have any questions, please let me know. Westerns will be in St. Charles, MO this year.  The closest airport is St. Louis (STL) and is 7 miles (10 km) away. Nationals location is hopefully going to be announced soon.
Olympics! Congratulations to Jordan Chiles- a Silver Team medal! Wahoo! Also coming to Region 2, at Oregon State University will be Jade Carey, who won Gold on floor exercise.
The new compulsory exam is ready.  https://usagym.org/pages/women/pages/judging_accreditation.html to link to the registration page.
Calendar Updates REGION 2 Look for fliers from Tiffany Quincy!
Inland Camp September 25 – 26                                 Dynamics             Spokane, WA
North Camp October 2 – 3                                            Emerald City       Redmond, WA
South Camp October 16 – 17                                       Naydenov           Vancouver, WA
High Tech Camp October 23 – 24                                Metropolitan     Kent, WA
DP Regionals April 21 – 24                                            Naydenov           Clark County Event Center Vancouver, WA
Xcel Regionals April 29 – May 1                                  NW Aerials          Gary D. Weikel Event Center Evergreen State Fairgrounds, Monroe, WA
DP Westerns May 6 – 8                                                  Lindenwood U   St. Charles, Missouri
DP Nationals May 13 – 15                                             TBA
On another note:
I feel it is important to address a concern that impacts the competitive choices for a gymnastics club. As a private business, it is your decision to participate in any organization/s you choose. It is also important to determine the accuracy of the messaging from those organizations, particularly if they reference USA Gymnastics. The USA Gymnastics State / Regional / National Committees have worked tirelessly to provide a safe – organized and educational program for the entire membership. Our focus has always been on the growth and development of all programs with an emphasis on grass roots initiatives. We have emphasized the educational components needed to nurture this philosophy. Typically, I would not address this publicly, but there is misinformation that some of these groups are broadcasting about our organization.  The messaging is incorrect, and I would suggest a closer look at their rhetoric. As always, thank you for your continued support of USA Gymnastics Region 2.
Wishing you all a healthy and successful season,
Marian DeWane, RACC
---
August 26, 2021 Updated Calendar
---
July 2021 Region 2 Newsletter
A HUGE thank you to Linda Mulvihill for all her 27 years of service as RTCC for Region 2!
Regional News: 2023 Host of Xcel Regionals – NAAG in Eugene and 2023 Host of DP Regionals is Emerald City.
Lots of changes coming this fall!  The minutes of the various meetings are attached. Some of the changes are noted below: Read the minutes for all changes.
Administrative:
Raise maximum for state entry fee for Xcel Bronze, Silver, and gold to $85
Raise maximum for state entry fee for Xcel Platinum and Gold, and all DP to $95
Technical:
The gymnasts can wear black Lycra shorts over their competition leotards. The black Lycra shorts must be plain. No adornments, jewels, colors, or large logos.
The gymnasts can wear multiple stud earnings in their ears.
DP
Level 7 Vault: For "Failure to land on any part of the bottom of the feet first"

No Deduction for Tsukahara and Yurchenko entry vaults
VOID for Front Handspring entry VAULT
Xcel: 
NEW – Any gymnast who has had previous competitive experience in any system (including USA Gymnastics) and who is a minimum of 12 years of age is eligible to petition for entry into Level 7 and below by submitting a formal written request to the State Administrative Committee.
Reminder to sign up for Regional Congress.  We are focusing on compulsories this year and have Tom Koll coming! Friday is with athletes– sign up at USAG. See the flier!
Region 2 Calendar: 2021 – 2022  SAVE THE DATES   *Hot shots TBA
August 12-14                     Congress              OMEGA                Beaverton, OR
September 25-26             Inland Camp       Dynamics             Spokane, WA
October 2-3                        North Camp        Emerald City      Redmond, WA
October 16 -17                 South Camp        Naydenov           Vancouver, WA
November 13 – 14           High Tech            Metropolitan     Kent, WA
April 22 – 24                       DP Regional        Naydenov           Vancouver, WA
April 29 – May 1                 Xcel Regional       NW Aerials       Everett, WA
Sincerely,
Marian
National Admin Committee Meeting Minutes (May 2021)
ndpc_051721
ndpc_ntc_051721
ntc_051721
nxc_051821
nxc_ntc_051721
---
Region 2 Newsletter June 7, 2021
Old Compulsories and move up meets:  The old compulsories can be used until July 31 for move up meets.  After that date, the new compulsories must be used.  Once the new season of memberships opens (in a week or so), once joined, the membership is active and those athletes CAN be in move up meets etc. even though it is not August 1.
Region 2 color has changed to turquoise for the next 3 years.  😊
Regional Congress is not sponsored by USAG this year.  It will be sanctioned so everyone can get hours if you need them.  On Friday will be athletes Level 5, 4, 3 with Tom Koll and helpers going over the routines.  The focus will be beam and floor.  Cost per athlete will be $60.  (Athletes will need to have joined USAG for the 2021 – 2022 year since it is after August 1.) This will be limited in number at each level so register early on USAG.  Please make sure levels are correct when registering your athletes.
Saturday will be coaches and judges with Tom Koll going over routines.  Questions and answers, judging demonstrations, will be part of the clinic.  Sunday will open time to go over routines and there will be judging films and special lectures. Cost will be $100 per person.  Check out the attached flier! If you bring more than 5, it is $75 each.
Regional Committee Meeting is June 9 at 8:00 am. If you have any comments, please direct it to your state chairman. Agenda includes:
Reports from chairs on their meetings: Linda, Dianne, Tiffany, Marian
Apparel Level 9 and 10: Tiffany and Marian
– Level 9
– Level 10
            – Athlete apparel for clubs that do not support regional events
Club of the Year Points – Suggestions to change/add a few items: Tiffany
Agenda item from Patti Gable about judges for Xcel regionals: Dianne
Xcel qualifying to Regionals and Regional Awards
Regional Congress: Marian
Download Registration Form for Region 2 Congress (PDF)
Schedule for fall clinics: Tiffany
Bids 2023: DP – Emerald City, Northwest Aerials, Performance Plus Events; Xcel – Metheny Enterprises (NAAG)
Awards
---
Newsletter Region 2 May 2, 2021
Newsletter Contents:
Voting
Coaching attire
Thank you to Gym 406 and Performance Plus Events
Next year qualifying DP regional meet
Compulsory Update
National Congress
Regional Congress
Future news
Message from Tiffany
Voting for DP Chairman is still open through May 4. Your vote does not carry over from the first election- you must revote in the runoff election. Please vote. You have two excellent candidates: Brent Phelps from Ascend and Tiffany Quincy from OMEGA.
Good luck to everyone headed to Westerns and Nationals. Coaches remember – p.21 C2 of the R and P: no hats, athletic shoes, Athletic warm-up pants or dockers (no jeans) and must be of reasonable length (No holes, tears or short shorts), and collared shirts, business casual or T shirts (No spaghetti straps, low cut tops or midriffs showing).  Please show your support of the region and be in Region 2 apparel.
Thank you to our two regional hosts – DP – Gym 406 and Xcel – Performance Plus Events.  Both events were great!  The Level 6 invite was a success – thank you to all who participated!  This will be a continuing event – we made enough in entry fees after paying bills to outfit our level 10's for Nationals. Yea!  From the sale of Leos at regionals, we helped outfit our Level 9 athletes.  Thank you to Shay Garner from GK and all you that bought them! We have 55 Level 10's going to Florida and 77 Level 9's going to Iowa.
Next year, we will be going back to our traditional qualifying for the Regional Meet: Level 9 and 10 need a 34 at their state meet, Level 7 and 8 will both be percent of a percent to fill 3 sessions of 8 and 3 or 4 sessions of Level 7.  The regional committee will firm up number of sessions for Level 7 in their next meeting.  Next year DP Regionals are hosted by Naydenov in the Portland Area and Xcel Regionals are hosted by Northwest Aerials in the Seattle area.
Compulsory Update:
Compulsory workshop Reno event: cost $385 and includes all online materials.
There is still space both live (it is half full) and virtual. The online version will be streamed live BUT will also be recorded ONLY for those with virtual access and will be available for 1 week after the event.
Those who preorder the compulsory book but do not attend, they will be shipped books after the Reno event ends.  FYI – If purchasing the materials, the big book is 75 and the mini version is 50.  The online materials will be $125 if you do not attend the workshop either virtual or in-person.
The mini books are what will be given to those who register for the events.  If attending live, you will get them at the event and if virtual, they will be shipped so you have them within the week of the event. The Monday after the event, all the materials in your USAG will be able to be accessed such as the music, videos of the routines, etc.  There is a Spanish version of the compulsory book being made.
All materials such as the compulsory online book will NOT be downloadable as an iBook onto an iPad.  It will always have to be accessed through USAG each time you want to use it, that way it will be always updated but it also means you will have to be online and logged into USAG every time you want to access it through your membership profile page.
The new compulsory exams for judges will be online.  More details will come out later.
For those wants to sanction mobility meets for the old Level 4 and 5 compulsories, this can be done through July 31st.  The new compulsories will begin August 1.
National Congress:
National Congress will be held with Olympic Trials.  Information will be coming out next week.  They are waiting on a finalized schedule to post.
Regional Congress:
Regional Congress will be held at OMEGA in Beaverton August 13 – 15.  August 13th will be a compulsory boot camp for athletes. More details will come out after Nationals.  Each chairman is working on their respective track for Saturday and Sunday. 😊 I am looking forward to seeing you all there!
News:
When the DP optional and Xcel programs change in 2022, there is discussion of only 1 code.  If you are in favor let Linda and Dianne know before their meetings in May.
============================================================
From Tiffany:
Congratulations to everyone for making a success out of a difficult year.  It was inspiring to see how hard your athletes have worked to keep their passion for gymnastics alive.  Good luck to all of our Region 2 qualifiers!
This summer brings us our new compulsory routines.  We are working on adding workshops for the compulsory gymnasts/coaches over the summer.  It has been proposed to add an athlete day to Region 2 congress for compulsory review and instruction. Some type of an athlete day would be a great jump start to the new routines and help for anyone who is unable to attend the Compulsory Workshops.
The National Committee meeting is just around the corner at Level 10 Nationals.  I have had several excellent suggestions for topics to add to the committee's agenda. Please send me any of your ideas for the National meeting agenda, as well as feedback and ideas for the Region.  If we all work together, we can make changes and make a difference.
Safe Training!
---
DP Regional Rotations
2021 Age Charts
Download the PDFs: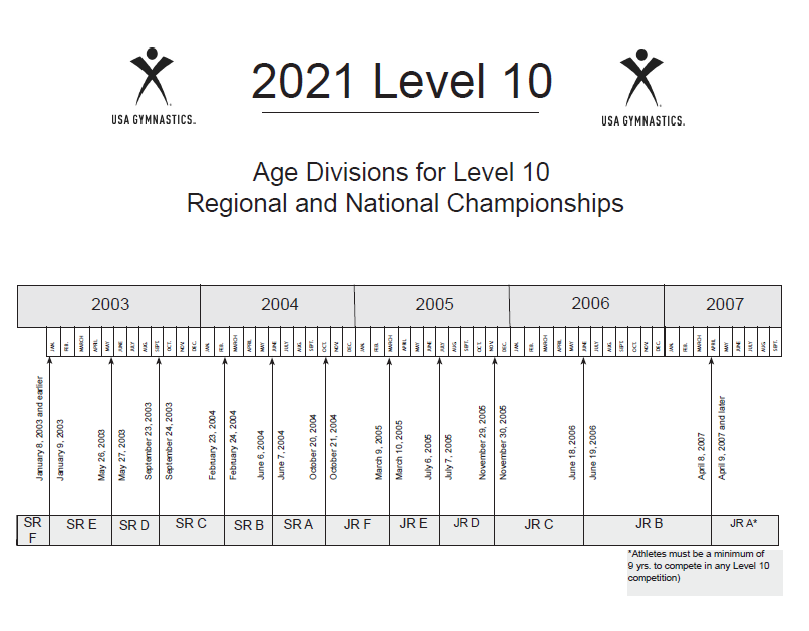 ---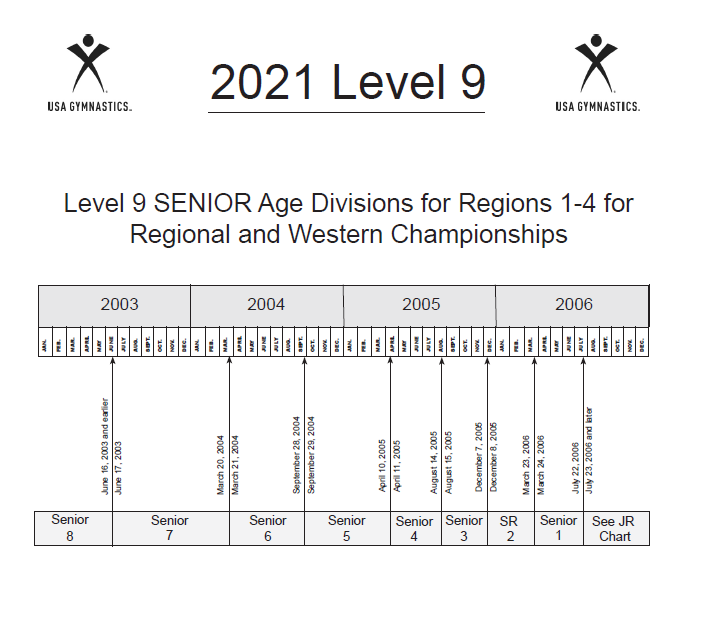 ---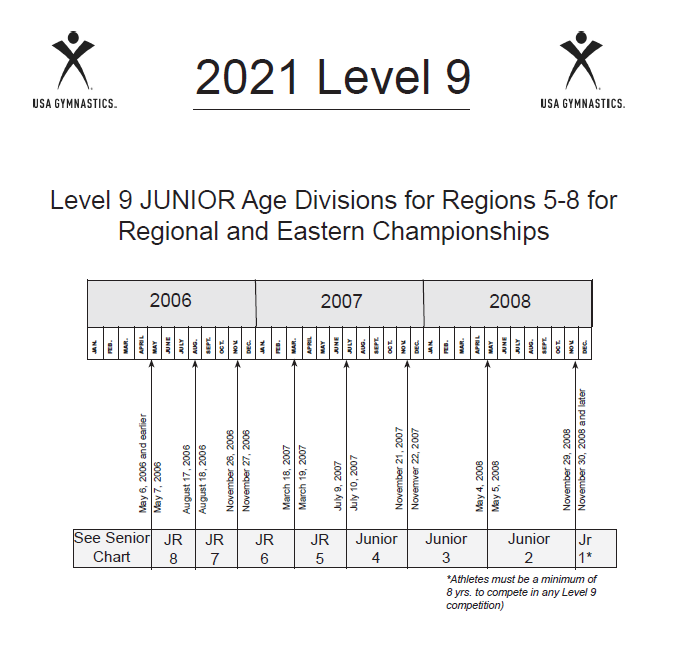 ---
---
Region 2 Newsletter
3/17/21
Updates on:
Elections
Regional Meets
Western and National Age Groups
Region 2 Apparel Store
Petitions
Western and National Workout times for Region 2
Athlete GK apparel measurements
Destira Fundraiser
Region 2 Newsletter
3/2/2021
XCEL REGIONAL INFO
The Xcel Regional Championships will be held in Boise, ID – April 23 – 25, 2021 at Idaho Central Arena (formerly Century Link Arena). It is in Downtown Boise.  233 S Capital Blvd, Boise, ID 83702
Performance Plus Events is the meet host and more information can be found on their website regarding cost, schedule, host hotels:
http://www.performanceplusevents.com
Qualifying Score Information:
Qualifying scores must occur at your Xcel state meet.  If no state meet is held then the athlete may use a qualifying score from any sanctioned meet (in-person or virtual) during the season.
State chairs are responsible for entering the qualified athletes immediately after their state meet.  Clubs should have one check per club addressed to Performance Plus Events.
NEW Qualifying Scores:  
GOLD:     34.00 AA
PLATINUM:  33.00 AA
DIAMOND:  32.00 AA
SPECIALIST:    8.50
Short and Sweet this week!
Happy flipping!
Marian DeWane, RACC Region 2